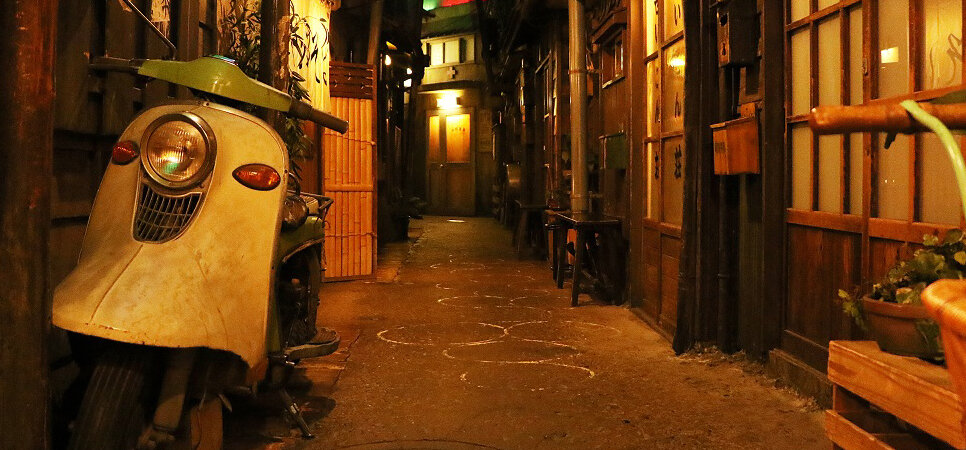 Shin-Yokohama Ramen Museum
About Us: Shin-Yokohama Ramen Museum
Shin-Yokohama Ramen Museum was founded on March 6th, 1994 as the world's first Ramen-themed amusement park. Our concept has been to be the one-stop place to enjoy the flavors of this national dish from renowned shops across Japan without stepping on a plane.
An exhibition area where visitors can learn about the history and culture of ramen is also located on the first floor. In the "Ramen Making Experience class" visitors can make noodles using the traditional Chinese method of "green bamboo beating," and enjoy learning how flour is transformed into ramen. (Charge / Reservations required).
Our seven ramen shops are showcased in a street-scape replication from the year 1958, Japan. It was in this year that the world's first instant ramen was invented.
Admission Fee (One-day ticket)
Adults (19 and above) 450yen
Child (6 to 18) & seniors(65 over) 100yen
※Free for children younger than 6 years old
Admission Fee (Group of 15 or more)
Adult (19 or older) 400yen
Child (6 to 18) & seniors(65 over) 50yen
※Free for children younger than 6 years old
Business Hours
Weekday 11:00~21:00
Holiday 10:30~21:00
※Ramen shops take orders until 30 minutes before closing time.
Holidays
12/31, 1/1
Shop List

We have vegetarian selections menu.
※Adult visitors who are junior high school students and older are expected to order at least one bowl of ramen when they visit a ramen restaurant.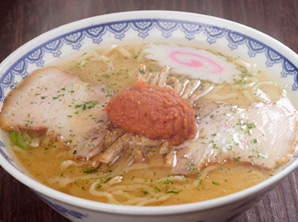 Ryu Shanghai Honten
Thick wrinkledMiso

One-of-a-kind spicy hot miso ramen
Enjoy the red spicy hot miso in the center of the bowl as it melts gradually into the soup.
That is how an expert savors this ramen.
An abundant quantity of dried small sardines are blended into a pork and chicken broth to
make a soup. The voluminous homemade extremely thick kneaded noodles are super springy.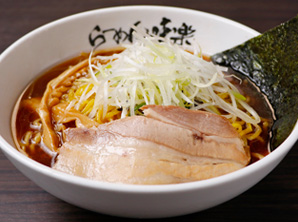 Rishiri Ramen Miraku
Thick wrinkledSoy sauce
Ramen from the Rishiri Island of Hokkaido landed on Ra-haku
The yaki-shoyu ( rich, scorched soy sauce base ) ramen is an exclusive dish made using large
amounts of Rishiri kelp, which is a bounty and a specialty of the sea in the north, an
unforgettable soup packed with plenty of savory flavor complemented by aged, medium-thick
chijiremen ( wavy ) noodles.
The main restaurant on Rishiri Island was even designated as a "Bib Gourmand" restaurant in
the Michelin Guide Hokkaido 2017 Special Edition.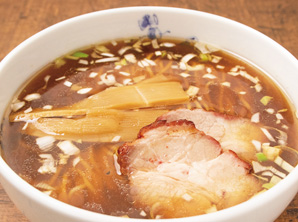 Asakusa Rairaiken
StraightSoy sauce
Legendary ramen revived after 100 years
The popular ramen shop has been revived in cooperation of the successor of Rairaiken, which
caused Japan's first ramen boom after its foundation in 1910.
Three parties were involved in the project. The museum did research and collected supporting
information, Shinasobaya reproduced the ramen and operates the shop, and the successor
gave a stamp of approval.
The noodles are made by Aodake Teuchi using Satonosora, Japanese wheat of the same
variety at the original recipe (100 servings to be offered per day). The soup is the result of the
condensation of umami from the domestically produced ingredients.Taste more umami from
the grilled pork as you chew it. The ramen is sold for a limited three-year period.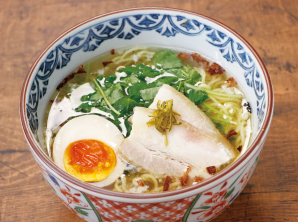 Ryukyu Shinmen Tondou
Thin straightSalt
Exquisite salt flavored ramen.Condensed with the blessing from Okinawa's nature,
it shines in golden color.
Year 2021 marks the 20th anniversary of Ryukyu Shinmen Tondou.
To commemorate its anniversary, the shop took a new challenge to renew its signboard menu
'Onna Aji'. After a year of development period, the salt flavored ramen 'Shin Onna Aji' was
born. Ajikuta (rich and deep taste dashi soup in Okinawa dialect) is made from Okinawa's long
time popular ingredients such as pork, dried bonito, kelp, and dried sardines called 'sururu~'
in Okinawa dialect. Please experience the flavor of the delicious soup.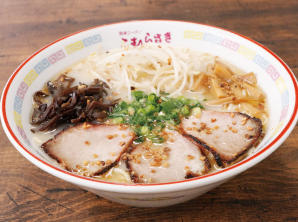 Komurasaki
Thin straightTonkotsu

The cradle of Kumamoto tonkotsu(pork bone)-based ramen
Komurasaki, well established ramen shop in Kumamoto, was founded in 1954. It is the only ramen shop that has been open since the opening of the Shin-Yokohama Ramen Museum and the reason why it has been loved for many years is because of its elaborate soup.
Vegetable Ramen
We have vegetarian selections menu. (Our menu is not"halal compatible". We kindlyask for your understanding.)
≫MORE INFO
The famous restaurant once again
The "Famous Store Series" is a project to open about 40 famous stores in the past in a relay format over a period of two years as part of efforts toward 2024, the 30th anniversary of the restaurant.
Famous Store Series - 3-week relay format store openings
About 30 ramen stores, excluding the founding members from 1994, existing stores, and planned exhibitions, will open stores in a relay format over a three-week period.
Hokkaido in the north and Kyushu in the south, as well as overseas groups that opened stores as reimported ramen will also participate.
1994 Series-Relay-style store openings over a period of around 3 months
In 1994, the Ra Expo was started by eight stores that decided to take on the unprecedented project of opening ramen stores on the road.
7 legendary stores (excluding "Komurasaki" in Kumamoto, which is currently opening a store) will open stores in a relay format over a period of around 3 months.
The concept is to "recreate the taste of 1994. We hope you will enjoy the precious delicacies that can only be found in this project.
Floor Guide
Gallery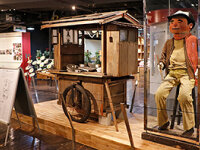 In this section, visitors can learn about ramen, centered around its history that has been clarified through 25 years of investigation.
It includes newly discovered Chinese noodles in the Muromachi (1338-1573) period, and the disclosure of the dawn of ramen.
---
The Museum Shop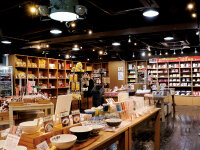 「Our Selection Of Home Made Ramen!」
A selection of famous stores and extremely rare dried and fresh ramen noodles from all over Japan.
「Ramen And Sweets Collaboration! Original Ramen Sweets」
We sell sweets with a ramen motif that you can't buy at other stores!
「Make Your Daily Life A Little More Fun! A wide variety of ramen goods!」
We have a collection of ramen-related goods that can be used in everyday life!
---
Kateko Café and Snack Shop
Kateko's Café and Snack Shop is a coffee shop where you can enjoy classic Showa sweets such as old-fashioned handmade pudding,
cream soda, parfait, and bavarois. Nissei's soft serve ice cream represents the flavor of Showa era, and it is available for takeout.
Weekday 11:30~20:00
Holiday 11:00~20:00
※Last order is 30 minutes before closing time.
---
Dagashi-ya on Yu-yake Shoten (Sunset Shopping Street)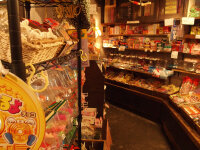 Dagashi-ya (old-fashioned sweet shops) bring back memories of childhood shopping for many Japanese people. Dagashi-ya were where children would gather on the way back from school, and we've replicated one such classic children's social hub. Jam packed with more than 300 old-fashioned sweets and toys, this shop is the source of much excitement for children and grown-ups alike.
---
Izakaya Ryoji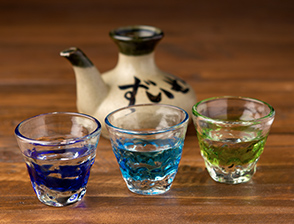 Born and raised in Okinawa, Izakaya Ryoji, which is a local favorite, landed on Ra-haku.
You can enjoy a variety of food and drinks from Okinawa's staple dishes to creative menu items using ingredients from Okinawa, served
with Orion beer direct from Okinawa and a wide range of Awamori, Okinawa's Distilled Spirits.
※For the time being, Izakaya Ryoji will operate as Ryukyu Shinmen Tondou, a ramen noodle restaurant.Bar Ryoji in the square on the
second basement floor operates as a standing bar.
---
Ramen Making Class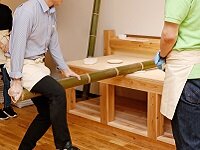 Paid service / Reservation required
We are offering a "Ramen Noodle Making Class"for every ramen lover.
The class is a hands-on experience that allows you to make noodles following a traditional Chinese method called Aodake-uchi and to
enjoy learning how flour is made into ramen noodles.
≫MORE INFO
---
Ra-haku Sugomen Lab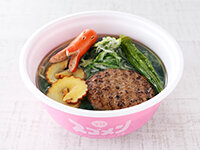 "RAHAKU SUGOMEN LAB" is a fun full-fledged original Instant Cup Ramen production.
Customers can create their own original Instant cup of ramen freely by combining unique noodles, ingredients,soup,containers,and lids.
≫MORE INFO
---
Rules (So every guest can enjoy the Ramen Museum)
Adult visitors who are junior high school students and older are expected to order at least one bowl of ramen when they visit a ramen restaurant.
Kindly wait in line when the ramen shops are crowded. The ramen shops do not accept seating reservations.
To re-enter the museum on the same day, please come to information on the first floor.We will put a stamp on the back of your hand, which will be checked when you re-enter.
Do not bring food and beverages into museum or ramen shops.
Do not bring your pets including dogs and cats into the museum, except guide.
Some restaurants may be closed aside from regular holidays.
Visitors may take photos at their own responsibility; provided, however, that they take into account the possibility of the violation of the copyright of exhibits, signboards and the like and/or portrait rights of other visitors. We shall not be held liable for any violation. Permission should be obtained in advance from us for any commercial photography or video.
ACCESS
From Haneda Airport : Time required : 45 minutes
Directions : Haneda Airport→Shinyokohama Bus Terminal (Take the Rinko or Keikyu bus)→Shinyokohama Ramen Museum (on foot)
From Yokohama : Time required : 15 minutes
Directions : Yokohama→Shin-yokohama (Yokohama City Subway)→Shinyokohama Ramen Museum(Exit 10 one minutes)
From Shinjuku : Time required : 50 minutes
Directions : Shinjuku→Shibuya (JR Yamanote Line)→Kikuna(Tokyu Toyoko Line)→Shin-yokohama (JR Yokohama Line)→Shinyokohama Ramen Museum (on foot)
From Shinagawa : Time required : 11 minutes
Directions : Shinagawa→Shin-yokohama (JR Tokaido Shinkansen Line)→Shinyokohama Ramen Museum (on foot)
From Tokyo : Time required : 18 minutes
Address
2-14-21 Shinyokohama, Kohoku-ku, Yokohama-City, 222-0033, Japan
TEL:045(471)0503