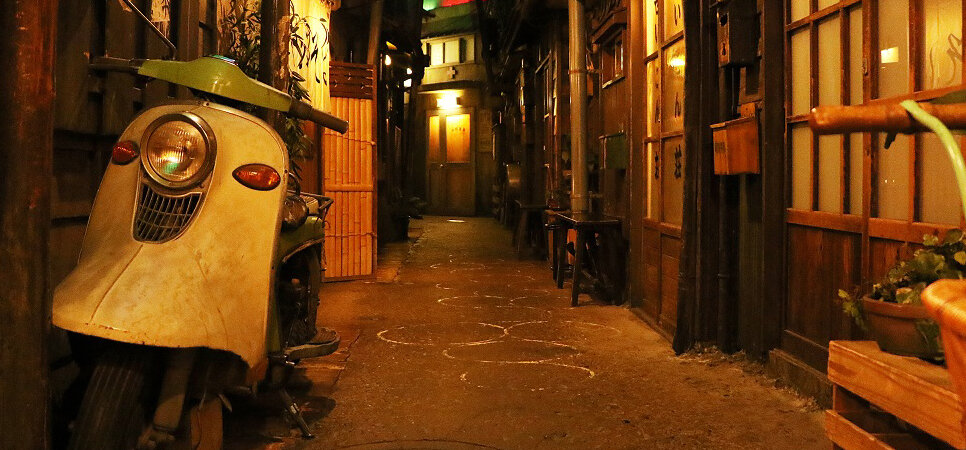 Shin-Yokohama Ramen Museum
Shop List

※Adult visitors who are junior high school students and older are expected to order at least one bowl of ramen when they visit a ramen restaurant.
About Us : Shin-Yokohama Ramen Museum
Shin-Yokohama Ramen Museum was founded on March 6th, 1994 as the world's first food-themed amusement park. From the start, our concept has been to be the one-stop place to enjoy the flavors of this national dish from renowned shops across Japan without stepping on a plane. To commemorate our 20th anniversary, we've expanded on the Japan-wide concept to being one that covers areas worldwide, delivering even more of the attraction and fascination of ramen to one and all. Our nine ramen shops are showcased in a street-scape replication from the year 1958, Japan. It was in this year that the world's first instant ramen was invented.
Floor Guide
Gallery

In this section, visitors can learn about ramen, centered around its history that has been clarified through 25 years of investigation. It includes newly discovered Chinese noodles in the Muromachi (1338-1573) period, and the disclosure of the dawn of ramen.
The Museum Shop

A ramen shop where you can bring home ramen from all over the country. Find various goods like chopsticks, bowls, and even utensils special to the ramen trade. Make your own original brand of ramen at the "My Ramen" booth, or your very own sweets at another of our booths. These are just some of the countless selection of Showa era and ramen goods offered.
Kateko Café and Snack Shop

Rest your weary self down in the laid-back atmosphere of this café from Japan's good old days. Soft-drinks, and alcohol selections, as well as light meals are on the menu here. Of particular popularity is their Hokkaido soft-serve ice cream, called soft cream. Get it to-go.
Dagashi-ya on Yu-yake Shoten

(Sunset Shopping Street)

Dagashi-ya (old-fashioned sweet shops) bring back memories of childhood shopping for many Japanese people. Dagashi-ya were where children would gather on the way back from school, and we've replicated one such classic children's social hub. Jam packed with more than 300 old-fashioned sweets and toys, this shop is the source of much excitement for children and grown-ups alike.
Ramen History
With its roots as a Chinese noodle dish, ramen spread to Japan and integrated with the local food-culture.
In 1859 Japan opened its ports to the world, bringing in linguistic interpreters from China and Western countries. Foreign settlements were set up in Japan's major port towns, where Chinese restaurants began to line the streets. This gave way to the formation of China Town. There, the Chinese noodle dish that would later become the source of Japanese ramen was served. In time, the Japanese locals began to eat at these Chinese establishments, some of which began to set up their own independent operations, selling noodles from carts (or yatai) on the streets.
The difference with Japanese ramen and the Chinese noodles can be seen in the soup stock, or dashi. The soup used for Chinese noodle dishes is used in several other Chinese soup dishes, whereas the soup stock used in Japanese ramen was created with only ramen in mind. Being a treasure-trove of umami, with anywhere from five to up to forty different ingredients used to make it, that's one reason why ramen soup has drawn attention from around the world.
Ramen Varieties
The Noodles
Wheat, brine and regular water, salt and eggs comprise the primary ingredients that go into making the noodles. Noodles are categorized by five criteria: their thickness, the percent of water used to make them, their degree of wave or shape (chijire), and their color. These criteria together have an affect on the overall flavor. Notably, adjustments to the different noodle aspects are done to match the different soup characteristics: wavy noodles are generally more compatible to lighter soups, and straight noodles more compatible to thicker soups. What kind of noodles do you prefer?
Thin Noodles
Thick Noodles
Wrinkled Noodles
Hirauchi Noodles
Soup
The key factor to ramen is in the soup and how various ingredients go in to bring out the umami element. Soup is generally comprised of a salt, soy sauce, miso, or other sauce bases, and finished off by adding to this, an animal-based broth like pork bone or chicken bone, and a soup which may include things like niboshi (sardines), konbu (kelp), and other seafood or vegetable-based ingredients. There really are no rules. There are even soups made entirely of chicken, or pork bone.
Toppings
Here too, with toppings, there are no particular rules. Standard toppings, however, include chashu (seasoned, roast pork), menma (seasoned bamboo shoots), green onion, soft-simmered egg, and nori. Other than the standard ingredients, can be found corn, narutomaki (spiral patterned fish cakes), wakame (seaweed), and even butter. Such variety is dependent on regional taste and shop master's conceptualization.
Chashu
Bamboo Shoots
Simmered Eggs
Naruto (fish Cakes)
Regional ramen in Japan
Regional ramen came into being as Chinese noodles disseminated throughout Japan, intermingling with the food, climatic and environmental aspects of each region. While defining the varieties is difficult, there are at least 30 or more distinct, regional ramen in Japan, and comparing the different tastes adds to the fascination of ramen.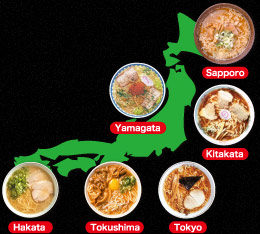 Regional ramen from the world
From France and Germany to America and even Australia, Japanese born-and-bred ramen is presently taking the world by storm. The style now sweeping the world is one that's true to Japanese form, but eventually, as has been seen in Japan, it will be drawn to intermix with the local climates, environments, and food cultures of each country, giving way to new regional ramen styles from around the globe.

RA-HAKU TV
It's an internet TV program shot, edited and of course planned entirely by Shinyokohama Ramen Museum. The program presents a vast store of knowledge on ramen. Here you can learn all about ramen from ramen world affairs, ramen history in Japan, to spotlights on famous shops.
ACCESS
Address
2-14-21 Shinyokohama, Kohoku-ku, Yokohama-City, 222-0033, Japan
TEL:045(471)0503
Access Map
From Haneda Airport:
Time required: 45 minutes
Directions: Haneda Airport→Shinyokohama Bus Terminal (Take the Rinko or Keikyu bus from Gate 8)→Shinyokohama Ramen Museum (by foot)
From Yokohama:
Time required: 15 minutes
Directions: Yokohama→Shinyokohama (Yokohama City Subway)→Shinyokoaham Ramen Museum(Leave the subway station from Exit 8 and walk for several minutes)
From Tokyo:
Time required: 50 minutes
Directions: Tokyo→Yokohama (JR Tokaido Line)→Shinyokohama (Yokohama City Subway)→Shinyokohama Ramen Museum (Leave the subway station from Exit 8 and walk for several minutes)
From Shinjuku:
Time required: 50 minutes
Direction: Shinjuku→Shibuya (JR Yamanote Line)→Kikuna(Tokyu Toyoko Line)→Shinyokohama (JR Yokohama Line)→Shinyokohama Ramen Museum (by foot)
Admission Fee
One-day ticket
Adult (13 or older) 310yen Child (6 to 12) & seniors(60over) 100yen Free.
for children younger than 6 years old.
Group of 15 or more: Adult 260yen Child&Seniors 50yen.
Business Hours
Holidays; year end/new year holidays
Ramen shops take orders until 30 minutes before closing time.
Accessibility
Rules (So every guest can enjoy the Ramen Museum)
Kindly wait in line when the ramen shops are crowded. The ramen shops do not accept seating reservations.
Same-day re-entry into the museum is permitted--simply show your ticket to a staff member at the exit, and they will stamp the back of your hand. This will later be checked under black-light when you return.
Refrain from smoking in the museum, except in KATEKO, a bar in the first basement, otherwise use the smoking stands installed outside the museum.
Do not bring food or beverages into the museum. If you have any, keep them in your bag and do not eat/drink them while you are in the museum.
Feel free to take personal photographs. For photographs for commercial use, please obtain permission of the museum in advance.
Some restaurants may be closed aside from regular holidays.
Adult visitors are expected to order at least one bowl of ramen. Each restaurant also serves small-sized ramen, which is recommended for visitors who would like to try ramen at several restaurants.